Southall-Maier Residence

This top-floor addition and middle-floor remodel was designed for a photographer, a painter and their expanding family. The way natural light could best make its way into — and develops the character of — the interior spaces determined how the addition was fitted to the existing two-story structure.

Exterior lights above the skylights shine down on the right-hand wall of the stair. Using bulbs with a tight enough focus to cast shadows of raindrops allows rain to appear to roll down the wall at night.

The original kitchen wrapped awkwardly around an old lightwell. Filling in this space makes the area plenty big enough for the family of five, and skylights reintroduce natural light where it is needed — above the counters. Gutters between the skylights are shaped to modulate direct sunlight.

The upstairs addition was made to stop short of the bathroom wall below to allow for a large skylight, creating plentiful but soft illumination in a bath with no windows.

A corner window with views of the Bay Bridge was made possible by pulling back from the required property-line setback. In the adjacent bath, the same view is afforded from the shower, in the reflection in the vanity mirror.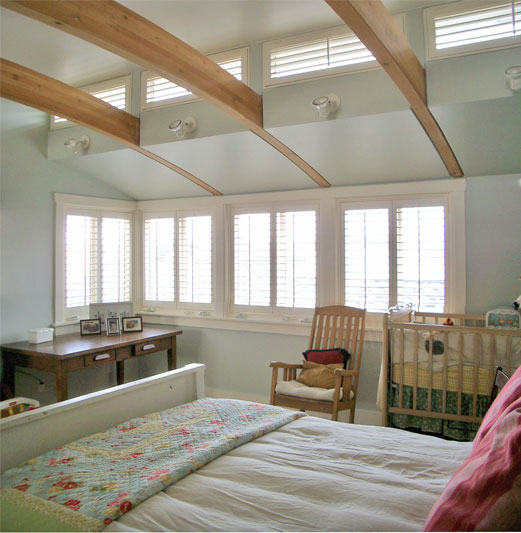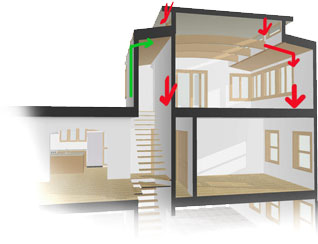 What at first glance appear to be non-bearing beams carry the loads of a central, upper roof to the load -bearing walls (red arrows), while picking up the load of the cantilevered stair wall (green arrow), and do so without necessitating a girder to support the arched beams where clerestory windows were desired. A conventional truss structure was prohibited by zoning height restrictions.