There was no connection between the upstairs and downstairs in this hillside house. The owner wanted a stair inserted within the existing floorplan. The most convenient location, however, took space away from the front bedroom.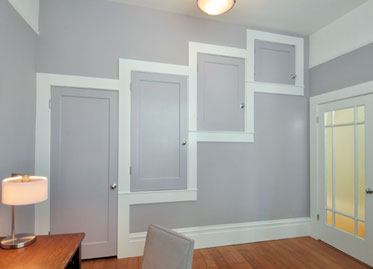 The most sensible solution was to keep the stair tight to one wall, and suspend a series of closets for the bedroom in the empty space over the stair. This allowed the removal of an older, added closet, freeing up floor space.

But additionally, since the closets needed to be only two-feet deep, it allowed the creation of a narrow, vertical light well in the remaining stairway width. This brings daylight into what was the darkest area of the house.
An upstairs bathroom was also expanded and remodeled. Most of the bath was too close to the property line to allow for a legal skylight without a schedule-inhibiting firewall. Instead, two tall, vertical windows were placed in the existing walls to each side of the vanity, creating an even, diffuse illumination.